Solution
inteliLIGHT® - FLASHNET's smart street lighting solution is a complete hardware and software solution providing remote control, detailed monitoring, advanced analytics and actionable intelligence for every streetlamp and feeder pillar in the street lighting grid.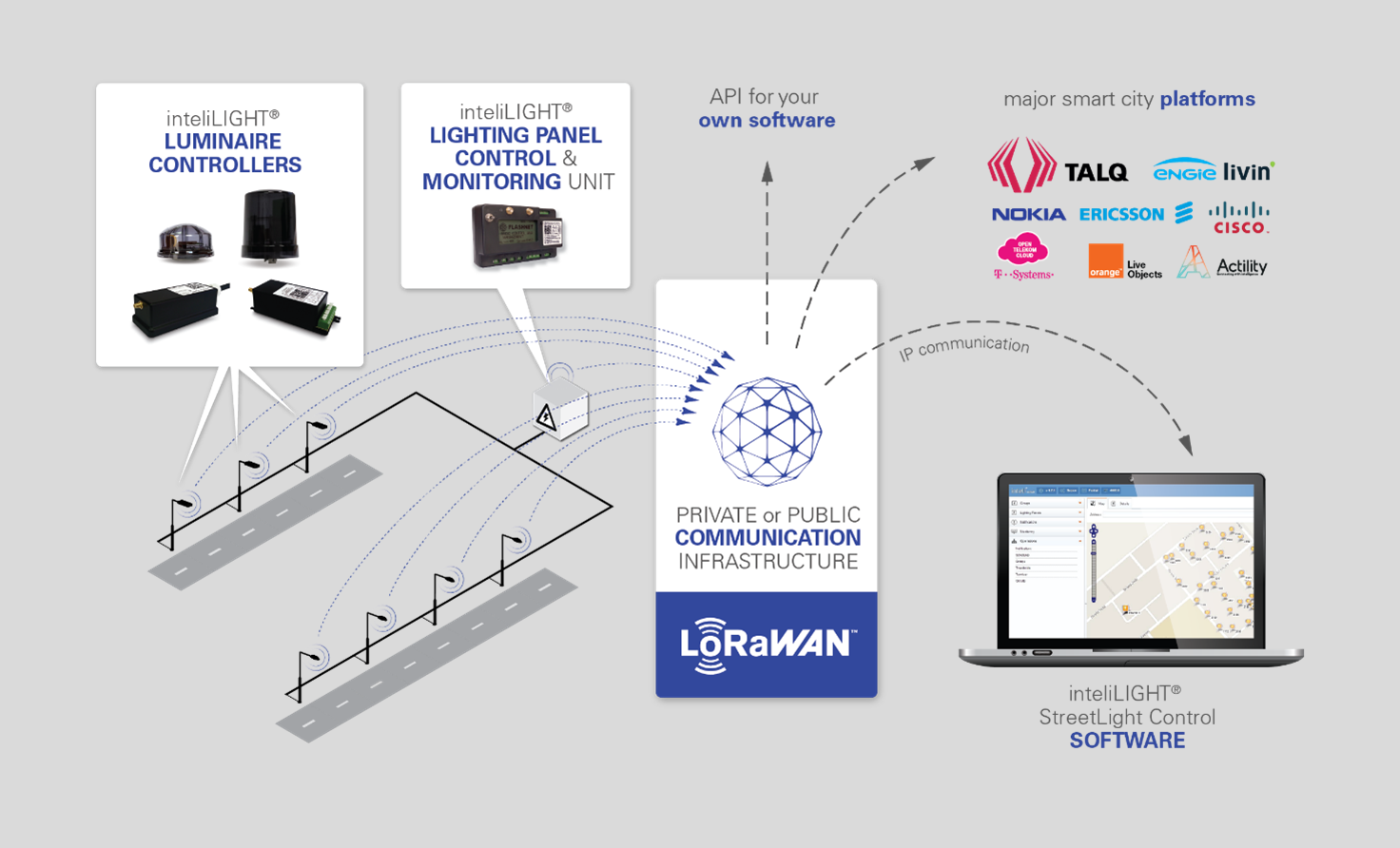 inteliLIGHT® Streetlight Individual/ Segment Controllers– positioned on or next to the luminaires or inside the feeder pillar:
control

(i.e. turn ON/ OFF or Dim)

monitor

(i.e. identify faults, energy theft, measures electrical parameters etc.) and send real-time alerts whenever needed
allow

autonomous operation

based on:


predefined schedules (internal scheduling memory, astronomic calendar and real-time clock)
light level sensor
motion sensing
LoRaWAN™ communication network
– ensures secure bidirectional, communication between Streetlight Controllers and Central Management Software:
low power, long range communication technology specifically for the Internet of Things
excellent coverage and penetration
capable to efficiently manage thousands of devices>
private network or integrated with public service providers depending on the projects needs
inteliLIGHT® StreetLight Control software
– is a user-friendly software application that can be used from any personal computer device to manage and optimize street lighting operation and maintenance activities.
System health overview – devices online, faulty lamps, energy consumption, energy savings, notification and ticket status etc.
Flexible map visualization
Advanced scheduling and manual override
Alarms, Alerts and Ticket management
Inventory management
Advanced data analytics, reporting tools and performance graphs, featuring detailed filtering capabilities (lamp runtime reports, energy savings reports, luminary status reports, etc.)
TALQ2 certified, uCIFI compatible